In December of 2021, ROIDMI EVA Self-Cleaning & Emptying Robot Vacuum, was officially launched to the overseas market on Indiegogo crowdfunding platform. The Indiegogo campaign which ran from Dec, 2021 to Feb, 2022 was a big success, which set an impressive record by raising over $1,000,000+ in overseas sales.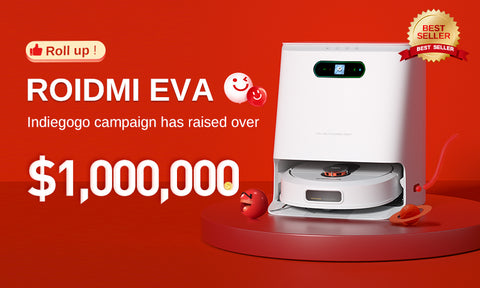 With the 21st century generation moving towards improved living standards and the pursuit of quality life, there's now an increased need for advanced house cleaning appliances such as sweeping and mopping robots to ease cleaning working burden and more so maintain a clean home with less manual effort.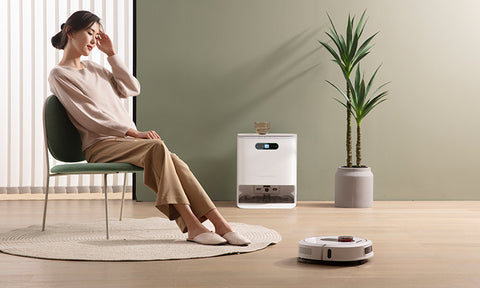 Unlike other traditional sweeping and mopping robots, ROIDMI EVA offers an extra edge hence gaining more recognition in the overseas market from consumers worldwide. This is attributed to ROIDMI EVA's unique and upgraded multifunction as it offers 5-in-1 hands-free cleaning functions (sweeping, vacuuming, mopping, mop self-cleaning and dust collection).
Now you might be wondering: how has ROIDMI managed to achieve this?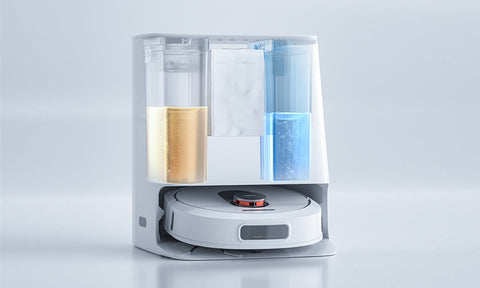 ROIDMI has always wanted to create a floor-cleaning robot that can truly liberate the hands of consumers so to provide a full hands-free experience. ROIDMI EVA integrates both mop self-cleaning and dust collection functions, so that users don't have to take out the garbage and replace the dust bag after every single clean; making life more convenient as you don't need to worry about taking out garbage for up to 60 days.
To achieve this, ROIDMI invested a lot of time, effort and resources in the R&D of ROIDMI EVA. The development of EVA is a brand new exploration in terms of principle, structure, electronic control, algorithm and app use. Technically, we have realized the interaction between the robot and the base station, between people and machines. The complexity of this interaction is much higher than that of traditional mopping robots and it also breaks through technical barriers. The vacuum is used to pump dirty water into the dirty water recovery tank, so that the stains do not pass through. The pump performs water pumping function and solves the problem of waste blocking the pump. Many technical difficulties have been solved through the innovation of our R&D team. From development to mass production, we invested nearly 500 machines for testing and verification, to expose and solve any issue happened during the testing phase.
As one of the pioneering brands of smart cleaning appliances in the world, ROIDMI faces the global market and focuses on the R&D of high-end household electrical products such as cordless vacuum cleaners and sweeping robots. ROIDMI started with category innovation and took technological innovation as the driving force for development. ROIDMI focuses on improving consumers' happiness as its brand mission, and constantly pursues innovation and advancement.